FACADE DESIGN WITH CABLE AND MESH SOLUTIONS
Making places green(er) with GREENCABLE from CARL STAHL ARCHITECTURE is easy to manage, simple to plan, easy to install and is tailored to suit different types of façades and plants. GREENCABLE decorates architecture even without plants and later envelops the green building shell for decades.
A coordinated modular system of individual parts forms the basis for giving free rein to creative ideas with stainless steel cables and stainless steel mesh. The systems are known for their longevity and are extremely low-maintenance.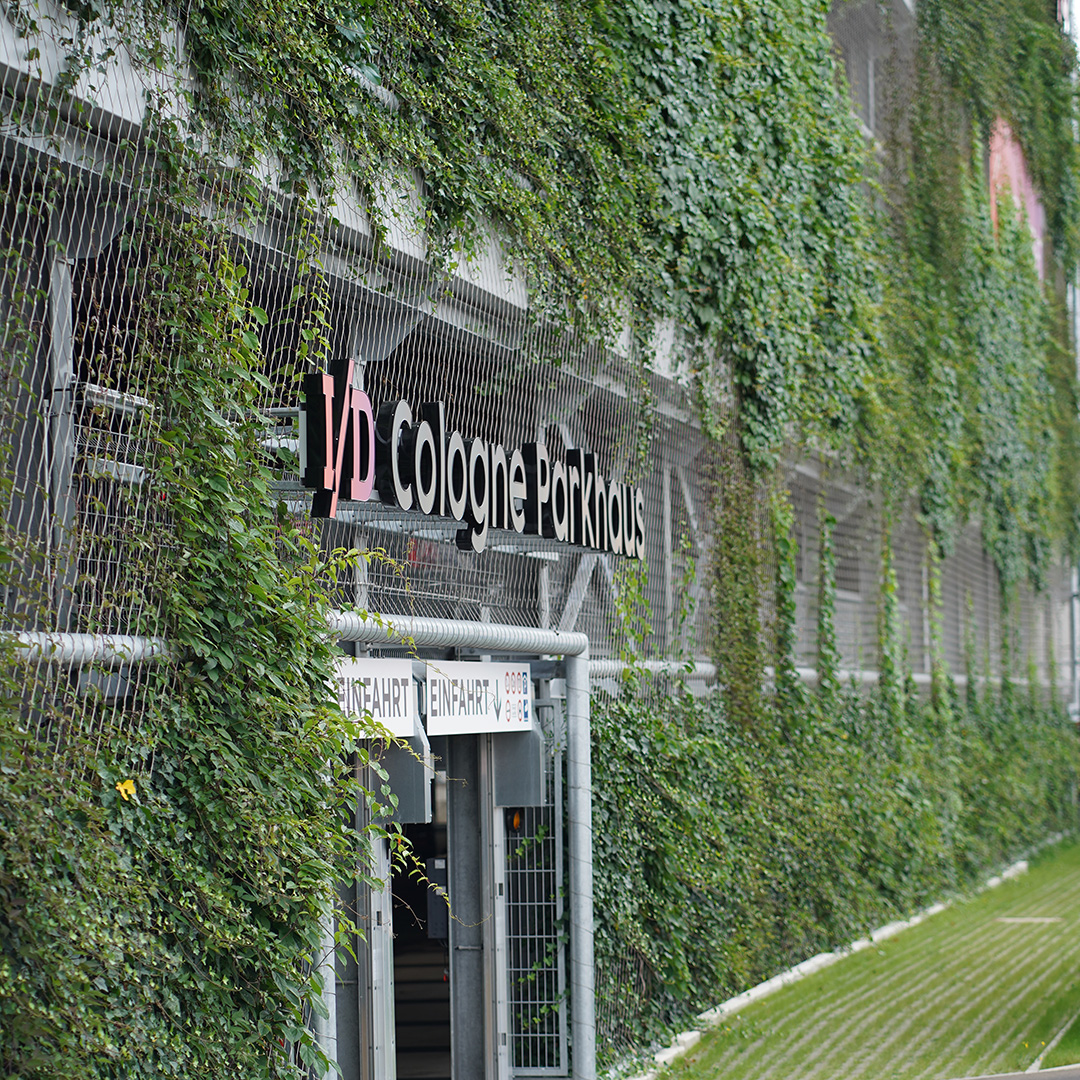 Greenery systems and fall protection with stainless steel mesh
Due to its large load-bearing capacity and span width, combined with a low self weight, X-TEND stainless steel mesh is ideal for greening. At the same time, it can act as ETA approved fall protection, for example on the façades of multi-storey car parks.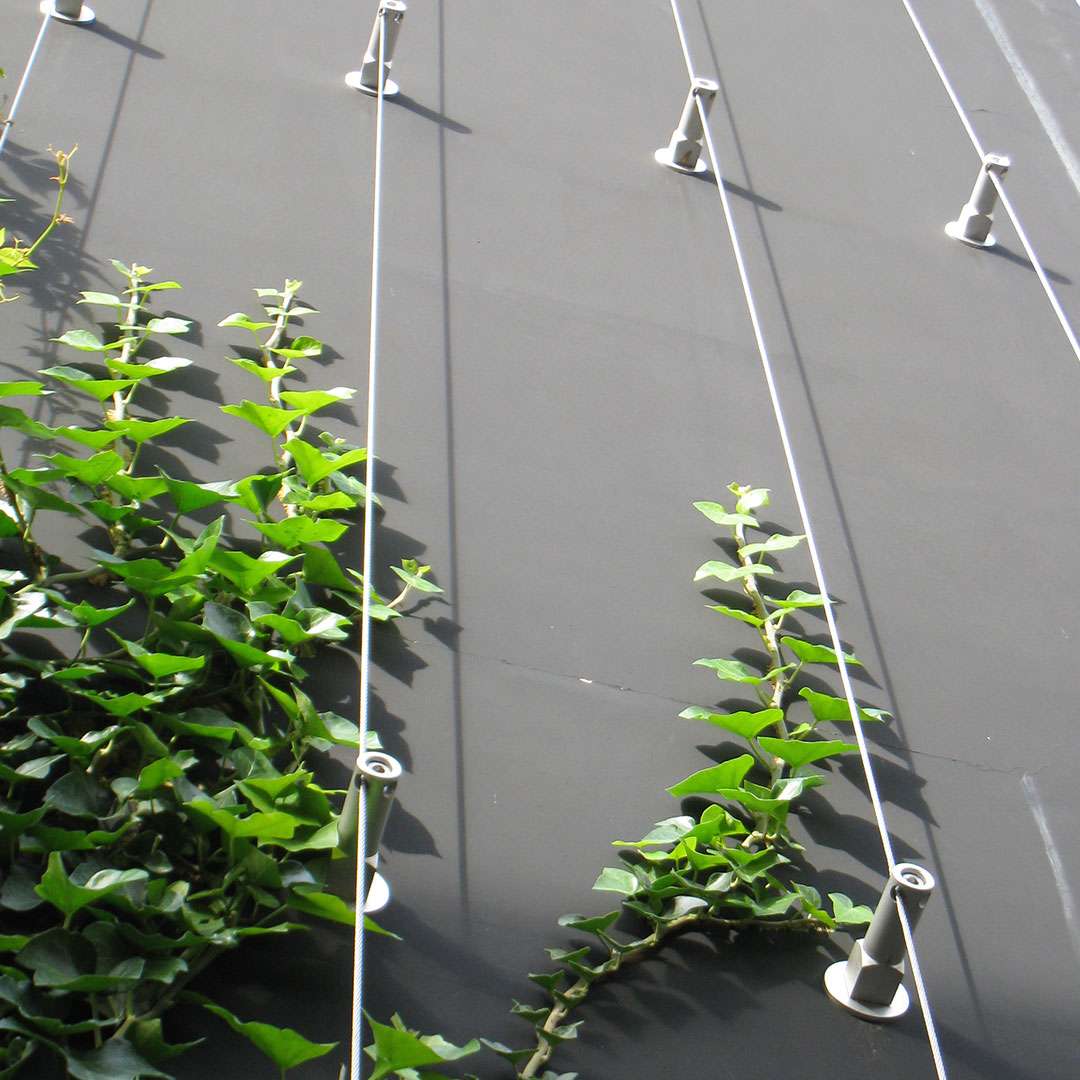 Greenery with
rope systems and wall brackets
The cable system attached to wall brackets makes it possible to have trellis structures with a linear or rhombic design. From simple DIY solutions to professional applications for thermally insulated façades with system structural analysis – the right solution for every requirement.
THE ADVANTAGES OF A GREEN FACADE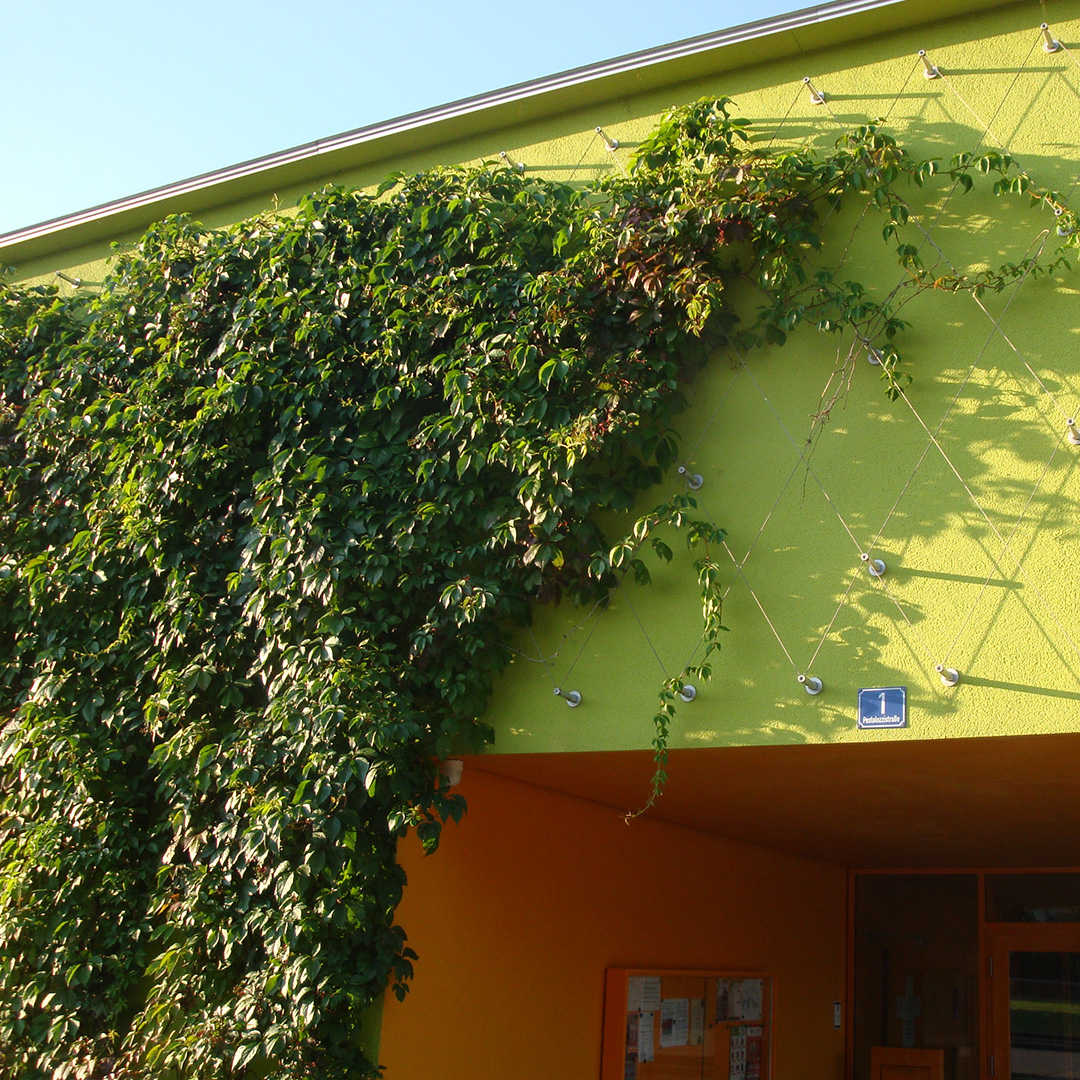 IMPROVING THE MICROCLIMATE
Green facades bind CO2 and generate oxygen for the ambient air. Water is released through the leaves. This evaporation effect lowers the temperature and thus acts as a natural air conditioning system in the immediate vicinity. Furthermore, large leaves and blossoms also bind fine dust particles from the air. The ecological filtering of air pollutants can significantly improve air quality. The absorption of water in the plants and roots reduces damage caused by heavy rain and relieves the burden on the municipal sewer system.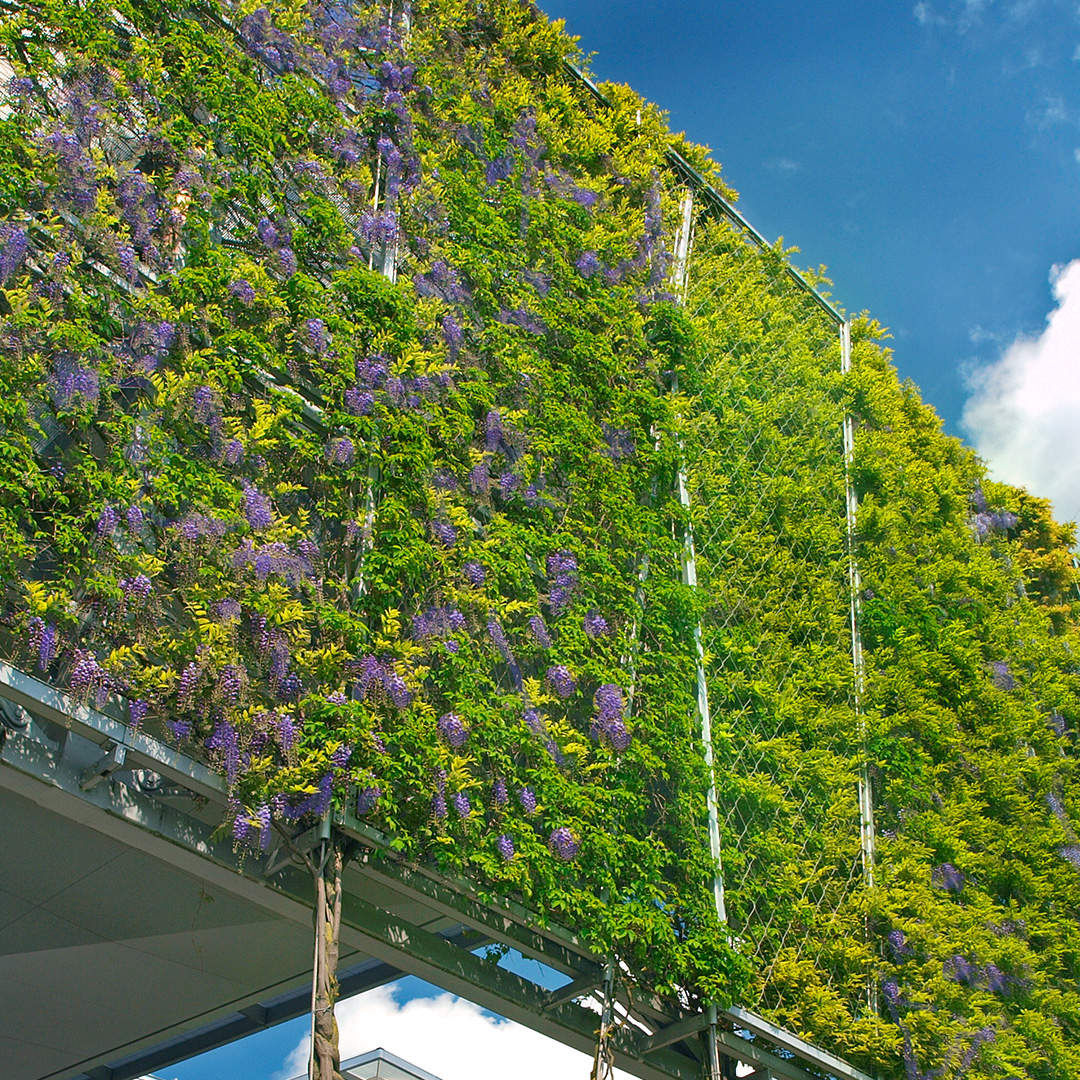 HEAT INSULATION ON THE FACADE
In summer, a green façade acts as an additional heat shield. The shade provided by the plants ensures that fewer heat rays reach the building. This prevents overheating and the reflection of the sun's rays is largely eliminated. Evergreen plant
species create an external insulation layer which helps keep out the cold in winter.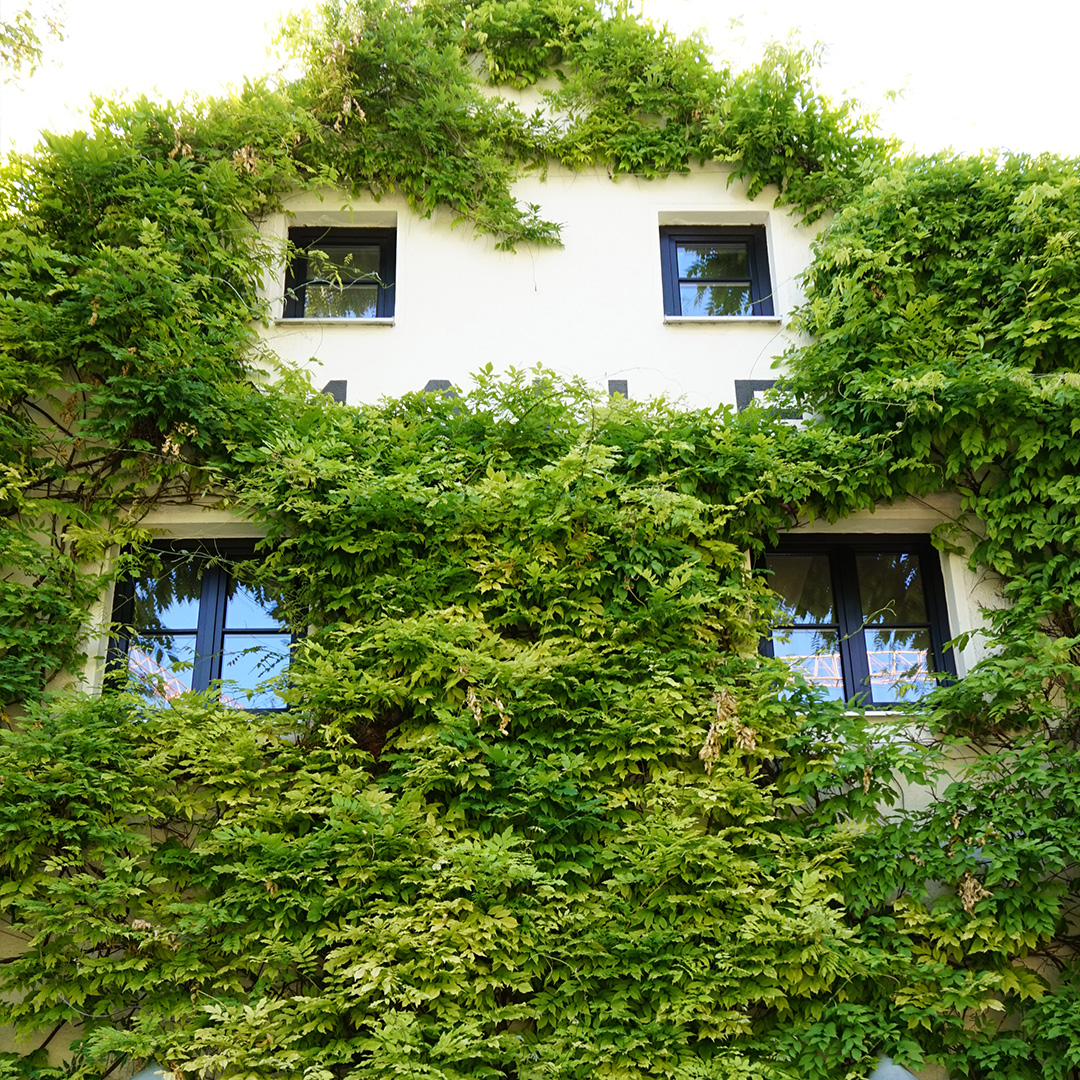 BUILDING PROTECTION AND NOISE REDUCTION
A dense layer of green on the outside of a building provides natural protection against driving rain, hail and UV rays. This increases the service life of the façade and saves renovation costs. The foliage of a green façade is an effective way of
reducing noise levels. It absorbs sound waves and reduces reflections, noticeably reducing noise pollution in cities.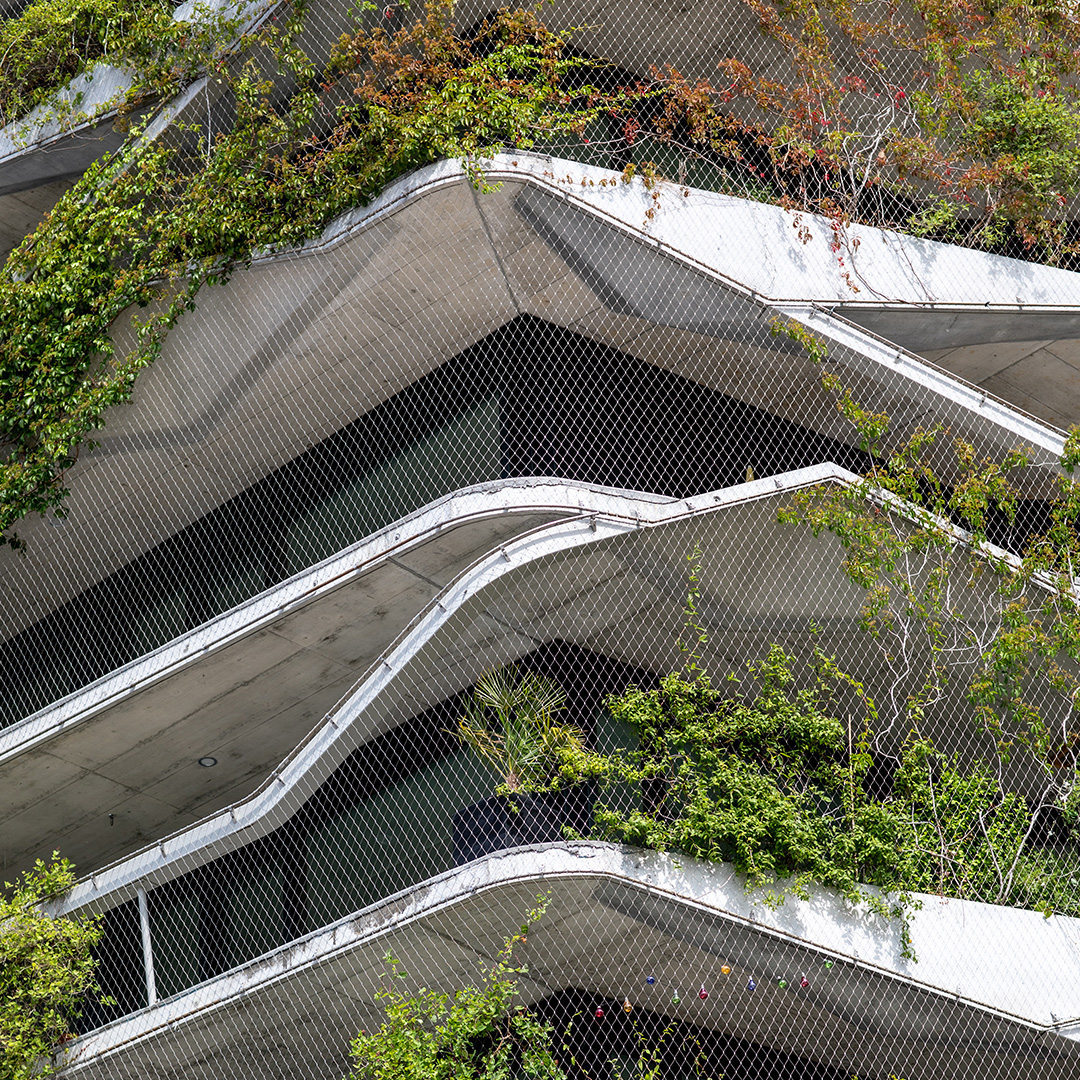 Living and working in a green environment has a positive impact on the well-being of many people. A green façade is perceived as space-expanding and calming, facilitating relaxation and ensuring less stress. In green districts, there is less aggression, violence and vandalism. This makes the public space attractive and increases the amenity values and the quality of life in otherwise somewhat dull settlements.
CONTACT US
Greenery with
rope systems and wall brackets
Phone: +49 (0) 7162 948 150 155
E-Mail: seilsysteme@carlstahl-arc.com
Greenery and fall protection with
stainless steel cable mesh
Phone: +49 (0) 7162 948 150 200
E-Mail: xtend@carlstahl-arc.com